Diabetes WA clinic
One-on-one clinical appointments with credentialled diabetes educators and dietitians are available for your patients. These appointments are eligible for the Medicare rebate under the GPMP and TCA.
Return completed form to Email: clinic@diabeteswa.com.au | Phone: 08 9436 6290 | Fax: (08) 9221 1183

Diabetes WA Health Professional Referral Form
Telehealth for country WA

Health Professional Referral Form
(PDF)
Telehealth Endocrinology Service – endocrinology support for those in regional and remote Western Australia.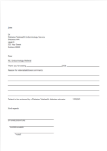 Telehealth Endocrinology GP
Referral Letter
Group self-management programs
All our programs are funded by the NDSS, at no cost to the consumer and sit outside the Medicare Benefits Schedule.
More information on each program can be found Programs and Education.

Diabetes Group Education
Referral Form